Our capabilities and committment to the industry are reflected in media coverage we receive.  Please contact us if you would like any information on the features below or if you would like more information on any of our ongoing projects.
Kodiak Delivers One Month Ahead of Schedule –
September 2012
Wilmington/Billerica/Tewksbury, MA
Featured in the photo are, from left, Tewksbury Selectman Doug Sears, MassDOT Highway Administrator Frank DePaola, State Representatives Paul Adams of Andover, Jim Miceli of Wilmington and Marc Lombardo of Billerica, and State Senator Barry Finegold of Andover.
Kodiak Corporation recently completed a fast-track superstructure replacement project  for a bridge crossing located on Whipple Road over the Shawsheen River.  The bridge, which borders the Towns of Wilmington, Billerica, and Tewksbury was previously closed for over two years due to unsafe roadway conditions.  The work was completed within a three month time frame, and nearly one month ahead of schedule, thanks to the cooperation of MassDOT personnel and Town staff.  The project was funded through MassDOT's Scheduled and Emergency Repairs contract.  The ribbon cutting ceremony featured keynote speakers including MassDOT's Highway Administrator, local delegation, and town staff.
Kodiak Featured in Lowell Sun – May 2012
Rourke Bridge, Lowell, MA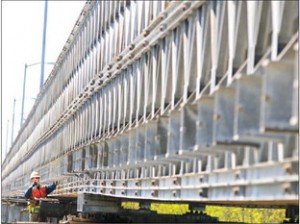 Workers from Lawrence-based Kodiak Corporation tightened all of the connections and bolts of the temporary truss system on the Rourke Bridge in Lowell yesterday as part of routine scheduled maintenance with Massachusetts Department of Transportation's Highway Division.
Kodiak Co-Sponsors Merrimack Valley Chamber of Commerce Event – April 2012
Methuen, MA
Pictured left to right: Joseph Bevilacqua MV Chamber President, Richard A. Davey, MassDOT State Secretary of Transportation/CEO, and Mitchell Keamy Jr., Kodiak Corporation
Kodiak Corporation was a recent co-sponsor for the Merrimack Valley Chamber of Commerce's breakfast highlighting Transportation projects in the Valley.  The Guest speaker was Richard A. Davey, Secretary of Transportation and CEO appointed by Governor Deval Patrick.  During his presentation, Mr. Davey highlighted the number of bridge and transportation improvement projects that are underway and soon to come to the area.